Anyway you slice it, last week was pretty disastrous for the education reform movement.
On Election Day, two closely watched and fiercely contested ballot initiatives backed by reformers in Massachusetts and Georgia went down in defeat. The former was an effort to lift the Bay State's charter school cap, while the latter was a proposition by Georgia Gov. Nathan Deal to create the Opportunity School District (OSD), a state-run entity with the power to takeover perennially failing public schools.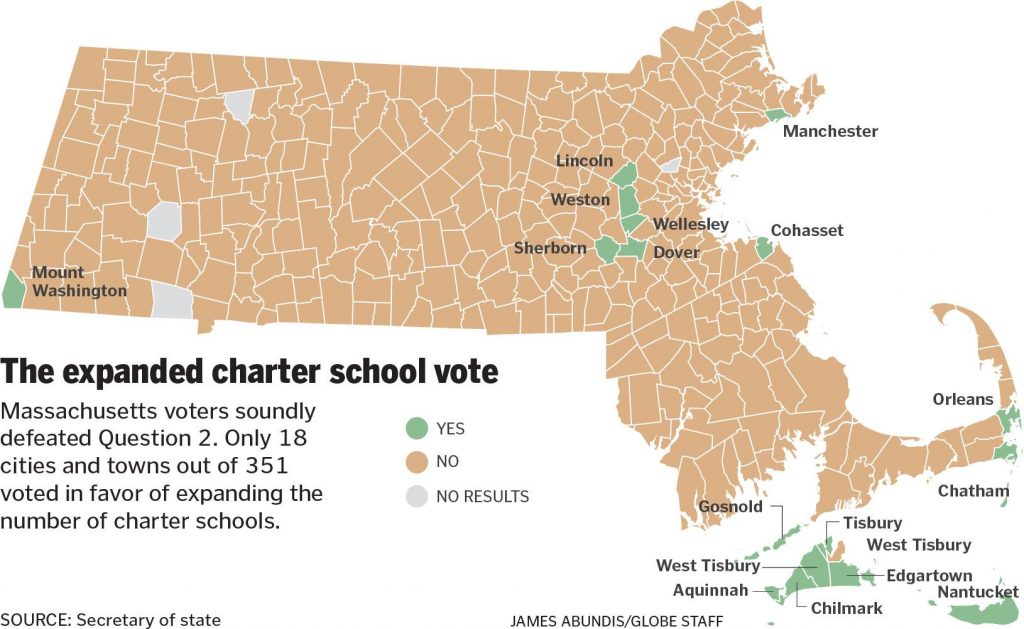 Opposition to both measures was organized and funded by the teachers unions, and in both cases, the proposals failed spectacularly. When the ballots were tallied, 64% of Massachusetts voters opposed lifting the charter school cap and 60% of Georgia voters rejected Gov. Deal's takeover plan.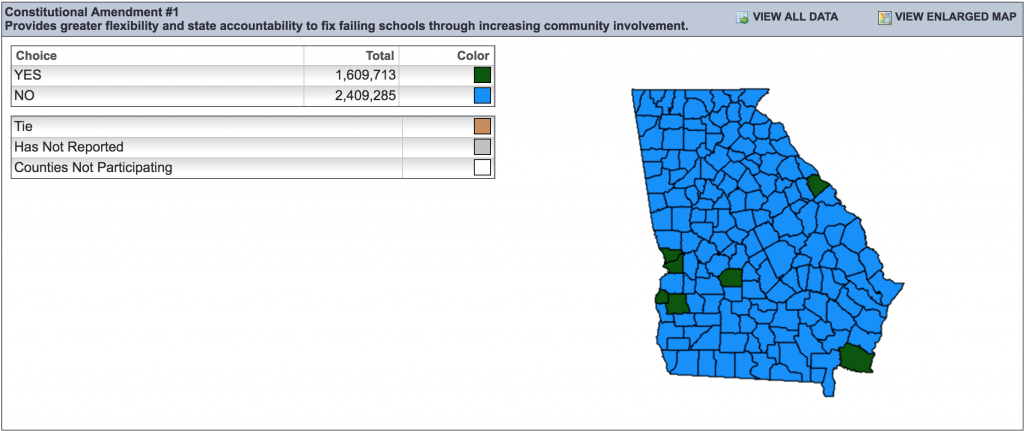 Not only are the defeats a huge loss for the tens of thousands of children trapped in underperforming schools in Massachusetts and Georgia, but they are a tremendous public relations coup for the teachers unions, who are currently engaged in a nationwide campaign to curb charter school expansion and rollback the accountability policies of the No Child Left Behind era. In fact, their victories in Massachusetts and Georgia are already being used to rally reform opponents around the unions' broader effort.
Anti-Privatization Education Victories We Can Rally Around via @jeffbcdm @alternet https://t.co/F7M3N2GW5f

— AFT (@AFTunion) November 15, 2016
The lopsided results in these two contests should serve as a huge wake-up call for education reform supporters, especially coming in the wake of other recent setbacks, such as the NAACP's call for a moratorium on charter schools. It should be clear at this point that our current approach (or lack thereof) isn't working. Unless reformers come together, develop new strategies, and combine our efforts, there will be more defeats in store for us in the future.
Here are two important lessons I hope reformers take away from last week…
1. We need a coordinated and aggressive communications strategy
Those of us steeped in the education debate often forget that most Americans have only a vague understanding of what charters are, have no idea what "supplement not supplant" means, and they couldn't tell you what LIFO is or how it impacts schools. Therefore, it's incumbent on reformers to breakdown policy issues and communicate their importance to the broader public. Unfortunately, the reform camp hasn't done that particularly well.
The teachers unions, on the other hand, have launched a full-scale communications offensive and they have a constellation of allied community organizations, advocacy groups, and "media" outlets (many of which happen to receive union funding) to help amplify their key messages.
There R real alternatives 2 the GA Amendment 1 state takeover. See how Community Schools can offer a bttr approach: https://t.co/723AbFS0Ou pic.twitter.com/scHoqHY0oD

— SEF (@SouthernEdFound) November 7, 2016
The response from reformers to this onslaught has been inconsistent and largely reactive. In the absence of a clear counter-narrative, the incessant drumbeat of the teachers unions' talking points assumes the illusion of truth in the minds of the public. Moreover, a recent Pew Research Center report found that 20% of social media users say they've modified their stance on a social or political issue because of material they saw online.
The Massachusetts charter cap fight illustrates how a disciplined and consistent messaging campaign can sway public opinion. A May poll conducted by Suffolk University found that nearly half of likely voters were in favor of lifting the cap. However, by the time Election Day rolled around, that support had fallen dramatically.
Why? The "No on 2" campaign was led by a single group, Save Our Public Schools, a referendum committee organized and funded by the the unions, that had concise messages they repeated ad nauseam. Meanwhile, the pro-charter campaign was waged by five separate committees, each sending their own messages and muddling it in the process.
2. We need to pick our battles wisely
Another lesson reformers should take from last week's defeats is relatively simple: Don't pick a fight that you're unlikely to win.
While I supported the effort to lift the cap in Massachusetts, I was perplexed why so many reform organizations decided to focus the bulk of their energy and resources battling it out in a labor-friendly state where the teachers unions hold considerable political influence. It should have been clear from the get-go that reformers faced an uphill climb, but nevertheless they poured nearly $21 million into the charter cap fight, narrowly outspending their union counterparts. In the end, they had little to show for it.
Opening day in #Newton and these teachers are getting pumped to sign up for #NoOn2. pic.twitter.com/2je244aepR

— SaveOurPublicSchools (@SOPublicSchools) August 31, 2016
Compare that to the contest over the Opportunity School District in Georgia, where the teachers unions are far weaker because state law prohibits collective bargaining by public employees. From a political standpoint, the prospects for success in Georgia were more favorable for reformers than they were in Massachusetts and yet they directed much less attention and money to the OSD fight. In total, OSD supporters spent $2.6 million during the campaign, while the unions put up nearly twice that amount – $4.7 million – to defeat the proposal. One wonders whether the outcome might have been different if some of the resources that went to Massachusetts went down south instead.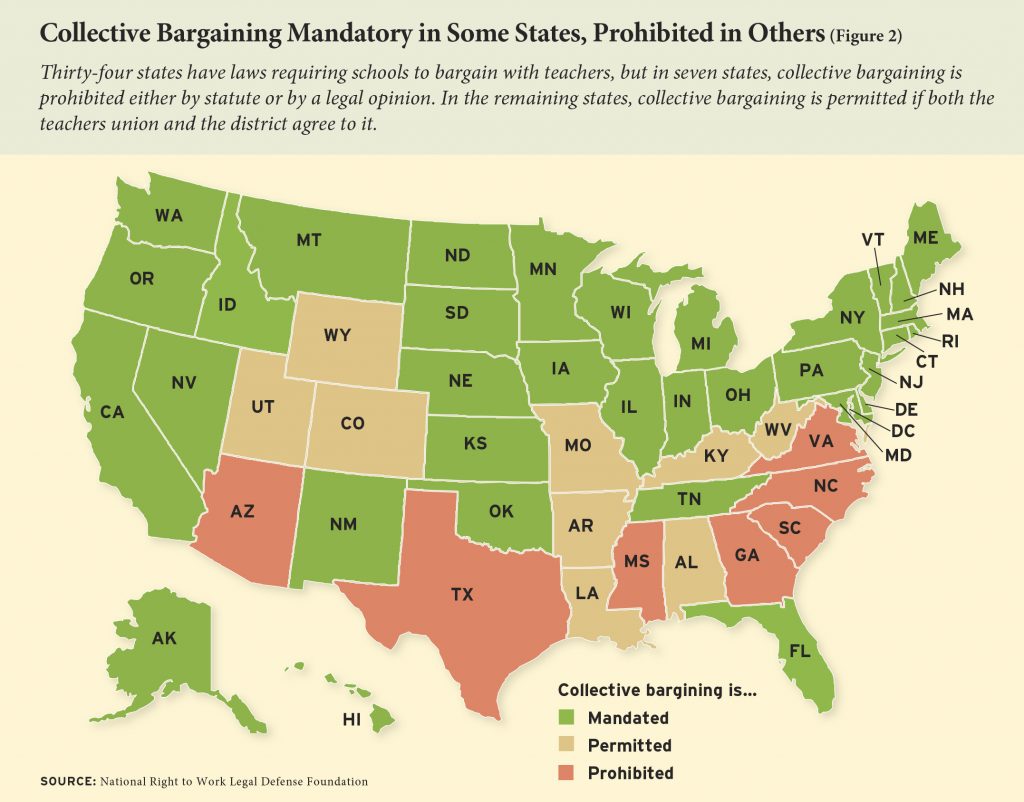 Admittedly, the teachers unions bring several advantages to the fight. Not only do they have hundreds of millions of dollars on available to defend their interests and expand their influence across the country, but as we saw in Georgia and Massachusetts, they can mobilize their members to knock on doors, hand out leaflets, and show up at rallies.
Given that fact, reformers need all hands on deck when it comes to fighting for better schools. We need a consistent and proactive messaging plan that counters misinformation and takes the fight to our opponents. It also requires that pro-reform groups coalesce behind a coherent strategy that uses a cost/benefit approach in deciding where to focus their efforts. Although the children stuck in failing schools in Georgia and Massachusetts lost last week, far more kids across the country will lose if we don't take steps now to turn things around.