Just when New Orleans is unifying behind a plan for a new era in school governance, the activist group Justice & Beyond is trying to drag the education system back to its dark ages. It was recently uncovered that the faux civil rights organization is backing three candidates in the upcoming Orleans Parish School Board (OPSB) elections:
Walter Umrani in District 4 (Algiers, French Quarter, Marigny, Bywater)
David Alvarez in District 6 (Audubon, Carrollton, Gert Town, Hollygrove)
Kwame Smith in District 7 (CBD, Tremé, 7th Ward)
Those who follow school board politics in the Crescent City are no doubt familiar with Justice & Beyond and its leader, Pat Bryant. Bryant is a fixture at OPSB's monthly meetings, where he regularly takes to the podium to harangue board members for a varying array of perceived injustices, usually related to the allocation of district contracts.
While Justice & Beyond's involvement in the OPSB races is not necessarily a surprise, it's also not a welcome development. As history shows, whenever Pat Bryant or his group gets involved in something, sketchiness surely follows.
A history of chicanery and shady dealings
Back in the summer of 2005, the U.S. Attorney's Office launched an investigation into a pair of pricey consulting contracts Bryant was awarded for "community outreach" by the city's then-sanitation manager, Lynn Wiltz. Soon thereafter, Bryant began paying for Wiltz's docking fees and boat slip at South Shore Marina. However, Hurricane Katrina sidelined the investigation and neither Bryant nor Wiltz were ever charged.1
Then in 2012, Bryant and Justice & Beyond emerged from the shadows to support former OPSB member Ira Thomas in his effort to oust then-Interim Superintendent Stan Smith. Thomas accused Smith of trying to undermine the district's Disadvantaged Business Enterprise (DBE) program, which seeks to steer at least 35% of each OPSB contract to local, minority-owned businesses, and demanded his recognition. When Smith refused, a power struggle ensued that dragged on for months and months.
As Thomas maneuvered, Bryant and Justice & Beyond incessantly attacked Smith at board meetings and in the media, portraying him as both incompetent and racist. Bryant even went so far as to threaten Smith – who filed a police report over the incident – at a groundbreaking ceremony for the new McDonogh #35 campus.
Thankfully, Thomas and Bryant's campaign against Smith was ultimately unsuccessful. Instead, Thomas' antics drew the attention of federal investigators who indicted him for accepting a bribe from – you guessed it – a DBE contractor. He pled guilty and was sentenced to a year in prison in March 2015.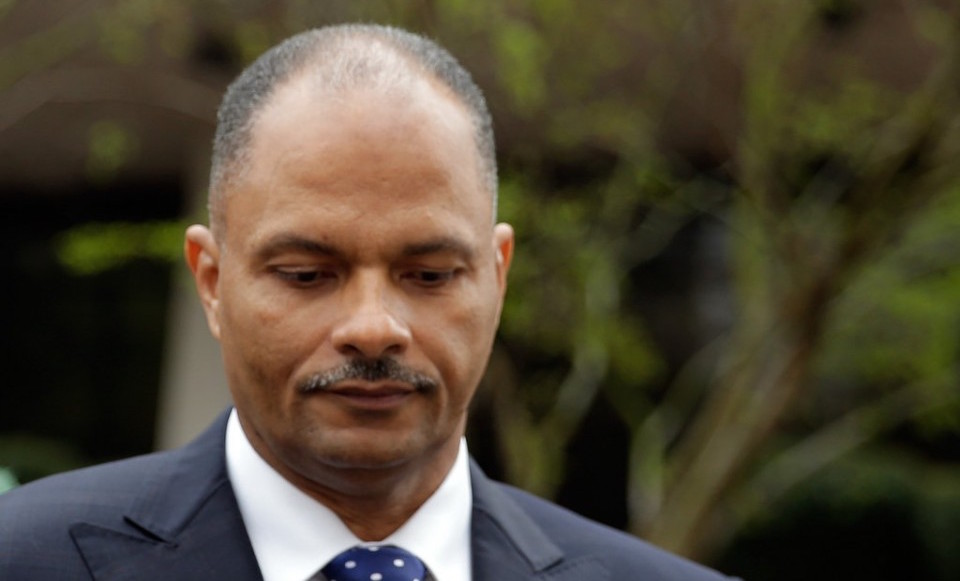 Most recently, Pat Bryant and Justice & Beyond campaigned against a millage renewal that was up for a vote in December 2014. Its passage was important because the tax receipts were dedicated to a maintenance fund that would pay for ongoing repairs to the city's newly built and refurbished buildings. But Justice & Beyond instead tried to turn the vote into a referendum on the Recovery School District and urged citizens to vote against the renewal.
The group's anti-millage campaign combined race-baiting with ad hominem attacks on school board members who didn't embrace their agenda. For example, one Justice & Beyond flyer called a group of OPSB members opportunists, traitors, and white supremacists – a group that included Nolan Marshall, Jr., who is African-American.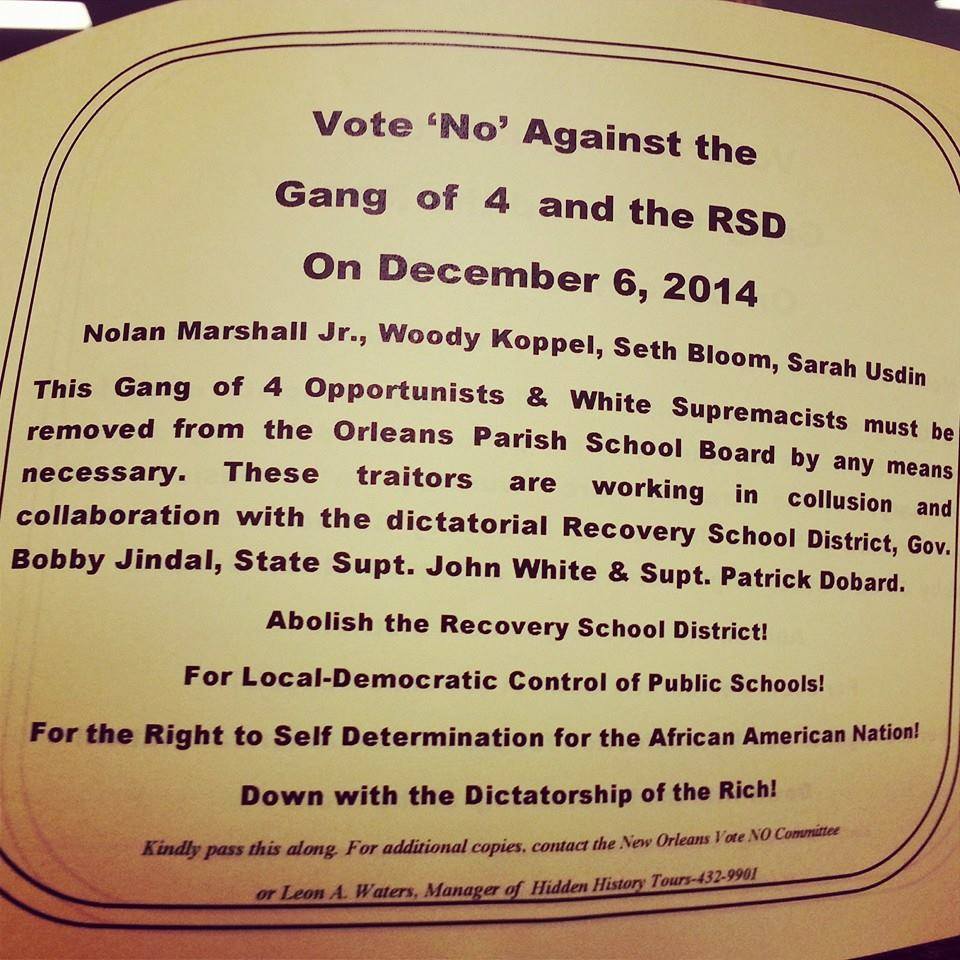 Fortunately, New Orleanians showed little interest in the old school political games Justice & Beyond were selling. When the ballots were finally tallied, the millage renewal passed easily with 60% of the vote.
Looking to extend losing streak
Given Justice & Beyond's track record thus far, I'm not sure there's much to worry about in the upcoming elections. The candidates they're supporting for OPSB reflect the fact they're screaming from the margins. Neither Walter Umrani nor David Alvarez are widely known outside of their circles and both are facing competitors with infinitely more name recognition. Plus, when Kwame Smith ran against Nolan Marshall in 2012, he could barely garner 11% of the vote, while Marshall won the three-way contest in the first round with 68%.

Of course, Bryant and Justice & Beyond will no doubt spew their usual talking points – i.e., charter schools are run by the KKK, they're a conspiracy against children, etc. But at the end of the day, people aren't simply aren't fooled by their divisive, conspiratorial messages and nakedly self-serving motivations.
---
On the other hand, Bryant and Wiltz continued to do business together. The Louisiana Secretary of State lists both Bryant and Wiltz as officers of a non-profit corporation called the Gulf Coast Disaster Management Institute which was registered in 2009 and went inactive in 2014. ↩