IT'S THE MOST WON-DER-FUL TIME OF THE YEAR…
… Or at least, it's the most wonderful time of the year for those New Orleans schools that showed progress on their 2018-19 school letter grades and School Performance Scores (SPS), which were released by the Louisiana Department of Education (LDOE) on Wednesday.
This was the second year that school and district performance was assessed using new formulas that incorporate students' annual growth on state standardized tests, which the state adopted as part of its plan to comply with the Every Student Succeeds Act, the federal law that replaced No Child Left Behind. As a reminder, here's a breakdown of how school performance is measured at various grade configurations:
For elementary grades, 25% of letter grades and SPS scores are based on student growth, with the rest based on an absolute measure of achievement on state standardized tests;
For middle grades, 25% of letter grades and SPS scores are based on student growth, 70% is based on an absolute measure of student performance on tests, and 5% is based on a metric that measures how many credits their recently graduated students accumulate in their freshman year of high school.
For high schools, 25% is based on a metric incorporating test performance and student growth, 25% is based on the cohort graduation rate, 25% is based on achievement on the ACT and career-readiness assessments, and the final 25% is based on a metric that takes into account in how many students take college-level classes (such as Advanced Placement) and earn Jump Start credentials.
This year also marked the first time that Louisiana's alternative schools were graded using a new accountability framework that takes into account the unique circumstances in those settings. Previously, alternative schools and traditional schools were assessed using the same formula, with the result that every alternative school in the state received an "F" year after year.
With that out of the way, let's take a closer look at school performance in New Orleans…
NOLA School Performance: The Big Picture
Overall, the district's performance score ticked up 1.6 points (from 66.2 to 67.8) in 2019, while maintaining its "C" letter grade.
Out of 81 public schools operating in New Orleans last year, 57% (45) received a grade of "C" or better, 28% (23) received a "D", and 15% (12) were deemed failing. It should be noted that six of those "D" and "F"-rated schools (Cypress, Harney, Nelson, Fischer, McDonogh #32, and Clark) were closed last year. Another "D" school, McDonogh #35, was taken over by the high-performing InspireNOLA charter network this summer and relaunched under their management in August.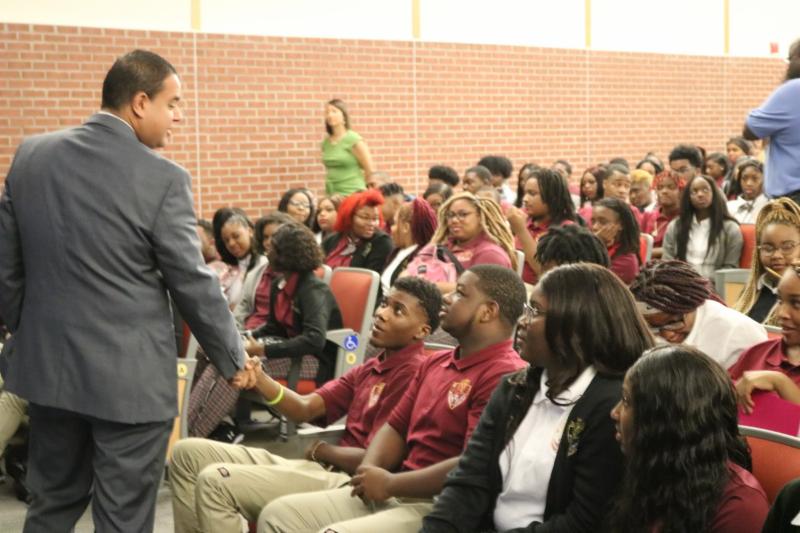 Ben Franklin High School was once again the highest-performing school in the city with a SPS of 135.5, easily beating its selective admissions rival Lusher, which came in at number two with a score of 123.1. Meanwhile, whatever New Orleans Military & Maritime Academy is doing must be working; it's not only the highest-performing open-enrollment school in the city, but its SPS score jumped 10 points year-over-year.
Other open-enrollment standouts this past year included Warren Easton, Edna Karr, Lycée Français, Rosenwald Collegiate, and International School of Louisiana. (And yes, I'm intentionally leaving out Hynes and Audubon from this list since the former is somehow allowed to pull a good portion of their students from one of the wealthiest zip codes in city, while the latter gives enrollment preference to children whose families can pay for their pre-kindergarten program. Sorry, not sorry.)
NOLA School Performance: The Most Improved
The addition of a growth measurement to the grading formula is a welcome change since our so many of our city's students enter school well-behind where they should be. It allows us to identify schools whose students are making significant academic growth over the course of the year, even though that progress might not be reflected in an absolute measure of performance.
This past year, 74% of New Orleans public schools received an "A" or "B" on their progress index, which gauges student growth year-to-year. Students at Dwight D. Eisenhower showed the most growth of any open-enrollment school in the city, followed by Habans, Wilson, Harte, and McDonogh #42.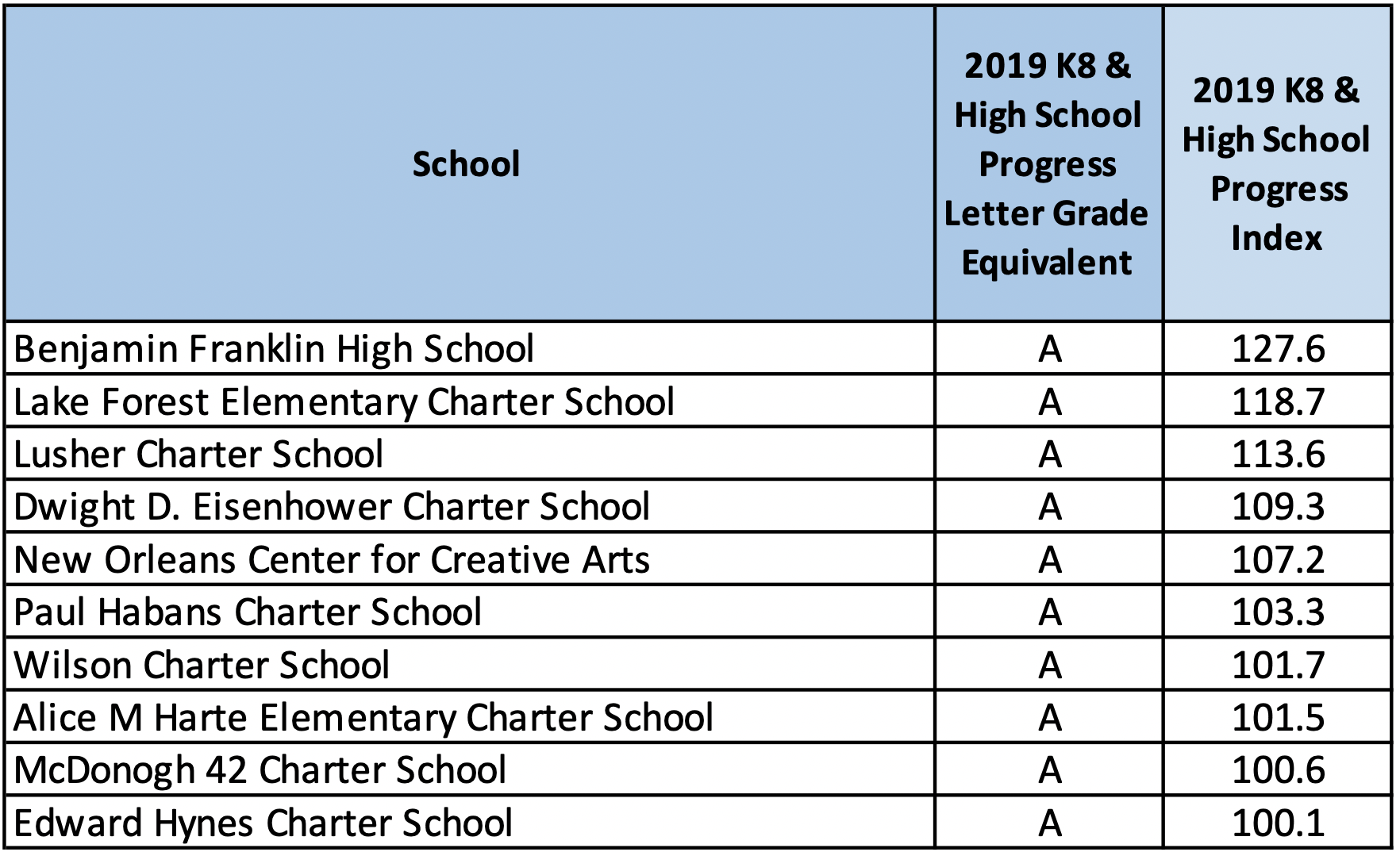 In terms of SPS, Sophie B. Wright saw the biggest increase of any school in the city – jumping an impressive 17 points – which makes one wonder why they were so concerned about a silly senior prank last year. Landry-Walker, whose performance plunged following a testing scandal, rebounded with their SPS rising 12.4 points and their letter grade jumping from a "F" to a "C". Eisenhower, which was taken over by InspireNOLA, also saw a significant jump of more than 12 points, while McDonogh #42 rose nearly 10 points.
NOLA School Performance: The Bottom Feeders
On the other end of the spectrum are those schools that saw some of the biggest drops in performance last year and the list includes some surprising names. For example, Lafayette Academy saw its SPS fall 15 points and its grade plummet from a "C" to a "F". Rooted School, a so-called "micro school" that has gotten lots of attention for its focus on preparing students for careers in the tech industry, fell 13.1 points, although it still earned a "C" grade overall. Booker T. Washington, which is part of the nationally-recognized KIPP charter school network and recently moved into a new school building in Central City, also saw a double-digit drop of 10.2 points.
Congratulations to students, staff, and alumni on the KIPP Booker T. Washington Groundbreaking Ceremony!! #nolaed @KIPPNO pic.twitter.com/ElqJu6WrIo

— NOLA Public Schools (@NOLAPSchools) December 13, 2016
There are also some not-so-surprising names on the list. Lawrence D. Crocker, which is run by the struggling New Orleans College Prep network, earned an "F" grade after its SPS fell nearly 14 points. Of particular concern are the three remaining schools in the ReNEW Schools network, which seems to be (or more accurately should be) on a trajectory toward dissolution. ReNEW Schaumburg in New Orleans East went from a "D" to an "F" this past year, while its other two schools, Dolores T. Aaron and SciTech both earned a "D". Meanwhile, Joseph A. Craig, which is run by the once-admired-but-now-dishonored Friends of King network, earned an "F" grade and a woefully-bad SPS of 38.8. And finally, Mary D. Coghill, which is overseen by the ironically-named Better Choice Foundation, will likely be closed at the end of the school year after earning an "F" and SPS of 44.
You can explore grades and SPS scores for all New Orleans schools in the table below.
NOLA School Performance: Explore The Data
| School | Type | 2019 Grade | 2019 SPS | 2018 Grade | 2018 SPS | ∆ SPS 19/18 | 2018 Grade (Old) | 2018 SPS (Old) |
| --- | --- | --- | --- | --- | --- | --- | --- | --- |
| Benjamin Franklin High | HS (select.) | A | 135.5 | A | 135.2 | 0.3 | A | 1.391,00 |
| Lusher | Combo (select.) | A | 123.1 | A | 122.2 | 0.9 | A | 1.366,00 |
| Lake Forest | ES/MS (select.) | A | 117.2 | A | 116.1 | 1.1 | A | 1.344,00 |
| NOCCA | HS (select.) | A | 107.4 | A | 114 | -6.6 | A | 1.209,00 |
| NOMMA | HS | A | 99.6 | B | 89.6 | 10 | A | 1.101,00 |
| Edward Hynes | ES/MS | A | 95.3 | A | 92.2 | 3.1 | A | 1.063,00 |
| Warren Easton | HS | A | 92.9 | A | 96.5 | -3.6 | A | 1.056,00 |
| Edna Karr | HS | A | 92 | A | 92.6 | -0.6 | A | 1.045,00 |
| Audubon Charter | ES/MS (select.) | B | 86.7 | B | 83.5 | 3.2 | A | 947,00 |
| Lycee Francais | ES/MS | B | 85.3 | B | 84.9 | 0.4 | B | 1.017,00 |
| Rosenwald Collegiate | HS | B | 84.5 | ~ | ~ | ~ | ~ | 0,00 |
| International School of Louisiana | ES/MS | B | 84.2 | B | 85.2 | -1 | A | 99,00 |
| Alice M. Harte | ES/MS | B | 83.5 | B | 85.1 | -1.6 | A | 1.023,00 |
| NOCSM | HS | B | 83.5 | B | 82.4 | 1.1 | B | 952,00 |
| Eleanor McMain | Combo | B | 80.1 | B | 80.4 | -0.3 | C | 948,00 |
| Abramson Sci Academy | HS | B | 79.3 | B | 76.6 | 2.7 | C | 823,00 |
| KIPP Renaissance | HS | B | 79.3 | B | 82.9 | -3.6 | B | 993,00 |
| Sophie B. Wright | Combo | B | 78.4 | C | 61.4 | 17 | B | 749,00 |
| Bricolage | ES/MS | B | 77.6 | C | 74.4 | 3.2 | B | 909,00 |
| Morris Jeff | ES/MS | C | 73.6 | C | 74.7 | -1.1 | C | 811,00 |
| International High School | HS | C | 71.4 | C | 63.2 | 8.2 | C | 781,00 |
| Benjamin Franklin | ES/MS | C | 71.2 | C | 71.7 | -0.5 | B | 802,00 |
| Einstein Charter HS at Reed | HS | C | 71 | C | 72.4 | -1.4 | C | 647,00 |
| The NET (ALT) | HS (alt.) | C | 70.5 | F | 29 | ~ | F | 268,00 |
| Youth Study Center (ALT) | Combo (alt.) | C | 69.9 | F | 24 | ~ | F | 84,00 |
| Mary Bethune | ES/MS | C | 68.9 | C | 66.6 | 2.3 | C | 777,00 |
| Andrew Wilson | ES/MS | C | 68.4 | C | 64.3 | 4.1 | C | 735,00 |
| Livingston Collegiate | HS | C | 68.4 | B | 78.1 | -9.7 | A | 80,00 |
| KIPP Central City Primary | ES/MS | C | 67.4 | C | 66.9 | 0.5 | C | 719,00 |
| G. W. Carver Collegiate | HS | C | 66.1 | C | 65.9 | 0.2 | D | 722,00 |
| JFK High School | HS | C | 65.2 | C | 63.3 | 1.9 | D | 696,00 |
| Rooted School | HS | C | 65 | B | 78.1 | -13.1 | C | 811,00 |
| Esperanza | ES/MS | C | 64.9 | C | 67.3 | -2.4 | C | 796,00 |
| KIPP Morial | ES/MS | C | 64.6 | C | 63.7 | 0.9 | C | 646,00 |
| Arthur Ashe | ES/MS | C | 64.4 | C | 70 | -5.6 | C | 817,00 |
| Samuel J. Green | ES/MS | C | 63.9 | C | 68.6 | -4.7 | C | 771,00 |
| Dwight D. Eisenhower (TAKEOVER) | ES/MS | C | 63.8 | D | 51.5 | 12.3 | D | 549,00 |
| Martin Behrman | ES/MS | C | 63.7 | C | 65.5 | -1.8 | C | 786,00 |
| The Net 2 (ALT) | HS (alt.) | C | 63.7 | F | 22 | ~ | F | 101,00 |
| Paul Habans | ES/MS | C | 62.4 | C | 64.8 | -2.4 | D | 715,00 |
| ReNEW Accelerated (ALT) | HS (alt.) | C | 62 | F | 18.6 | ~ | F | 152,00 |
| Homer A. Plessy | ES/MS | C | 61 | D | 52.6 | 8.4 | D | 574,00 |
| KIPP East Community | ES/MS | C | 60.9 | C | 70.4 | -9.5 | ~ | 79,00 |
| McDonogh #42 | ES/MS | T | 60.9 | T | 51 | 9.9 | ~ | 505,00 |
| KIPP Believe | ES/MS | C | 60.5 | C | 62.7 | -2.2 | C | 749,00 |
| Landry-Walker High | HS | C | 60.4 | F | 48 | 12.4 | D | 493,00 |
| KIPP Booker T. Washington | HS | D | 59.4 | C | 69.6 | -10.2 | B | 739,00 |
| KIPP Leadership | ES/MS | D | 59 | D | 59.3 | -0.3 | C | 65,00 |
| Dr. Martin Luther King | Combo | D | 58.8 | C | 65.9 | -7.1 | C | 735,00 |
| Mildred Osborne | ES/MS | D | 58.6 | C | 62.5 | -3.9 | D | 709,00 |
| Langston Hughes | ES/MS | D | 58.4 | C | 63.6 | -5.2 | C | 70,00 |
| Phillis Wheatley | ES/MS | D | 58.4 | C | 61 | -2.6 | C | 69,00 |
| McDonogh #35 | HS | D | 58.3 | D | 52.4 | 5.9 | D | 636,00 |
| ReNEW Dolores T. Aaron | ES/MS | D | 57.6 | D | 59.7 | -2.1 | D | 678,00 |
| ENCORE | ES/MS | D | 57.5 | C | 64.9 | -7.4 | C | 764,00 |
| Akili Academy | ES/MS | D | 57 | C | 62.6 | -5.6 | C | 701,00 |
| Foundation Prep | ES/MS | D | 56.6 | C | 66.4 | -9.8 | ~ | 709,00 |
| Einstein Charter MS at Reed | ES/MS | D | 56.5 | C | 65.7 | -9.2 | C | 722,00 |
| Robert Russa Moton | ES/MS | D | 56.4 | F | 48.6 | 7.8 | D | 547,00 |
| Joseph S. Clark (CLOSED) | HS | D | 56.1 | D | 59.5 | -3.4 | D | 556,00 |
| Cypress Academy (CLOSED) | ES/MS | D | 56 | C | 62.9 | -6.9 | C | 669,00 |
| Harriet Tubman | ES/MS | D | 55.7 | C | 63.1 | -7.4 | C | 737,00 |
| Fannie C. Williams | ES/MS | D | 55.3 | D | 56.2 | -0.9 | C | 544,00 |
| Einstein | ES/MS | D | 54.7 | D | 55.1 | -0.4 | D | 57,00 |
| Pierre A. Capdau | ES/MS | D | 54.5 | D | 51.8 | 2.7 | D | 50,00 |
| Success Prep | ES/MS | D | 54.5 | C | 62.4 | -7.9 | D | 723,00 |
| ReNEW SciTech | ES/MS | D | 51.2 | D | 55.7 | -4.5 | D | 63,00 |
| Firstline Live Oak (TAKEOVER) | ES/MS | D | 50.9 | D | 54.9 | -4 | D | 59,00 |
| Einstein at Sherwood Forest | ES/MS | D | 50.8 | D | 56.9 | -6.1 | C | 601,00 |
| ReNEW Schaumburg | ES/MS | F | 48.8 | D | 51 | -2.2 | D | 482,00 |
| Lafayette Academy | ES/MS | F | 47.9 | C | 62.9 | -15 | C | 725,00 |
| Arise Academy | ES/MS | F | 47.3 | D | 55 | -7.7 | D | 581,00 |
| Nelson (CLOSED) | ES/MS | F | 46 | F | 47.6 | -1.6 | F | 51,00 |
| Mary D. Coghill | ES/MS | F | 44 | D | 51.9 | -7.9 | D | 525,00 |
| Walter L. Cohen | HS | F | 43.7 | D | 50.6 | -6.9 | C | 615,00 |
| Lawrence D. Crocker | ES/MS | F | 43 | D | 56.9 | -13.9 | D | 663,00 |
| Edgar P. Harney (CLOSED) | ES/MS | F | 41.1 | D | 56.9 | -15.8 | C | 624,00 |
| William J. Fischer (CLOSED) | ES/MS | F | 39.1 | F | 40.5 | -1.4 | F | 386,00 |
| Joseph A. Craig | ES/MS | F | 38.8 | F | 47.7 | -8.9 | D | 454,00 |
| McDonogh #32 (CLOSED) | ES/MS | F | 38.3 | F | 42.6 | -4.3 | F | 367,00 |
| James M. Singleton | ES/MS | F | 35.3 | F | 39.2 | -3.9 | D | 383,00 |
| School | Type | 2019 Grade | 2019 SPS | 2018 Grade | 2018 SPS | ∆ SPS 19/18 | 2018 Grade (Old) | 2018 SPS (Old) |