Just in time for Christmas, the Louisiana Department of Education (LDOE) released 2015 school letter grades and School Performance Scores (SPS) earlier today. Schools were assigned grades on a curve again this year, based on a temporary policy adopted to ease the transition to the higher demands of the Common Core standards.
LDOE calculates elementary school letter grades based entirely on state standardized test scores. For middle schools, 95% of the school grade is based on test scores and 5% is based on credits earned through the end of their students' freshman year in high school. The formula to calculate letter grades for high schools is a bit more complicated: 25% is based on ACT results; 25% is based on End-of-Course test results; 25% is based on a "graduation index" which takes into account AP participation rate and results, among other factors; and, the final 25% is based on the school's cohort graduation rate. All schools can receive bonus points if they make significant academic gains with students who are behind.
While the overall distribution of letter grades of New Orleans schools didn't change that much, some of the city's schools saw big swings in performance. In terms of winners, KIPP Renaissance High School saw the biggest increase in performance this year, with its school grade jumping from a "D" in 2014 to a "B" this year. New Orleans Military/Maritime Academy, McDonogh #35 Academy, ReNEW Cultural Arts, and Harriet Tubman rounded out the top five most improved schools.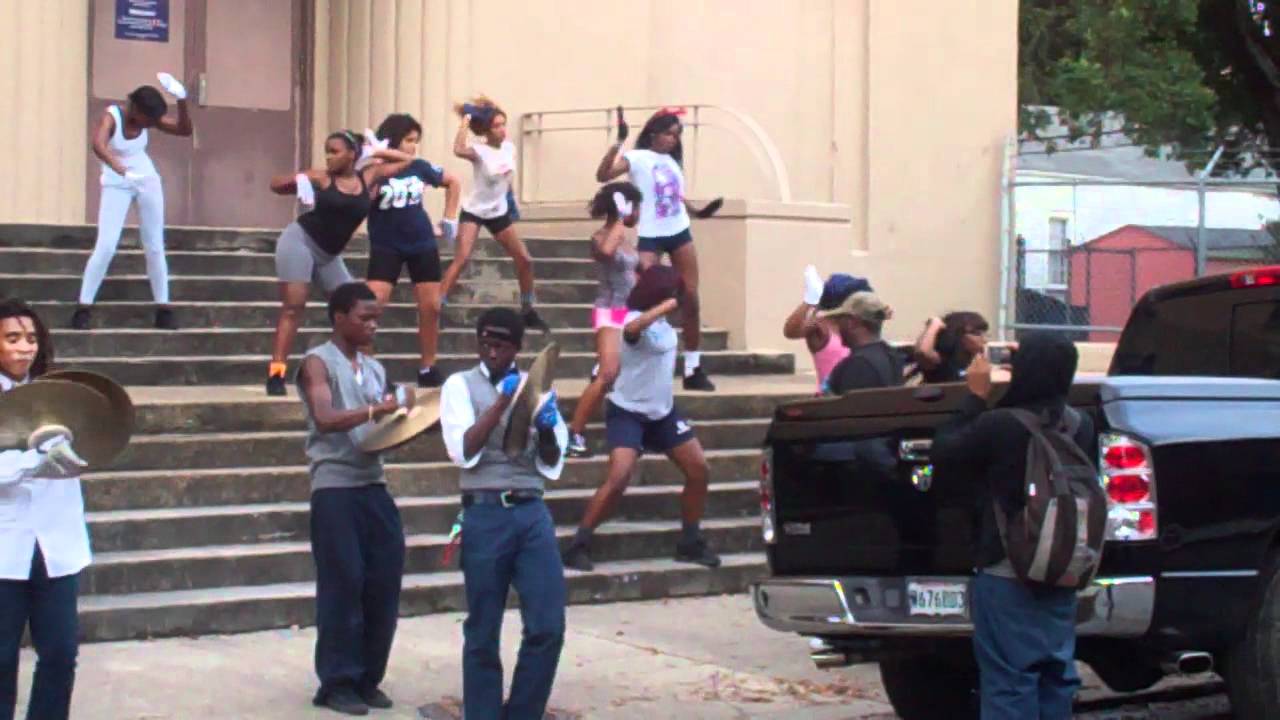 Who got coal in their stockings from LDOE this year? James M. Singleton Charter School in Central City continues to struggle. Singleton's SPS fell by more than 33 points this year – the largest decline in the city – although its overall letter grade remained a "D". On the other hand, Landry-Walker High School fell from a "B" to "D" this year, and its SPS fell by more than 28 points from 89.7 to 61.5. Nelson Elementary, Mahalia Jackson, and G.W. Carver Prep also saw SPS declines of more than 20 points. Finally, Lagniappe Academy, which was closed this spring after an investigation by the state uncovered serious violations of its charter contract, saw its SPS fall by over 23 points and its grade drop from a "C" to a "D".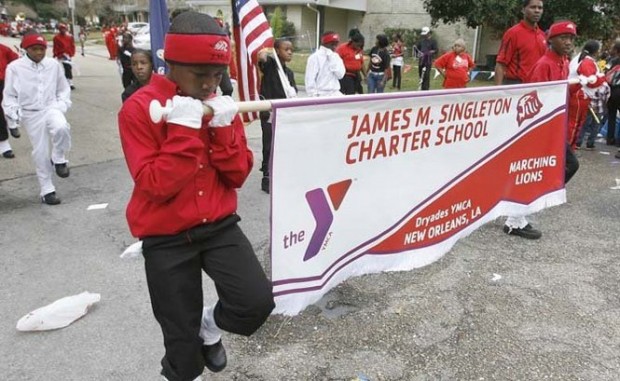 You can find letter grades and School Performance Scores for public schools across New Orleans using the map or table below.
2015 School Letter Grade Map
---
2015 School Letter Grade/SPS Table
| SCHOOL | 2015 GRADE | 2014 GRADE | 2015 SPS | 2014 SPS | 14/15 SPS Chg. |
| --- | --- | --- | --- | --- | --- |
| Akili Academy | C | C | 67 | 80 | -13 |
| Algiers Tech | D | D | 54.5 | 51.7 | 2.8 |
| Alice M. Harte Elementary | A | A | 100 | 106.6 | -6.6 |
| Andrew H. Wilson | F | F | 39.7 | 49.1 | -9.4 |
| Arise Academy | D | D | 47.8 | 58.3 | -10.5 |
| Arthur Ashe | C | C | 73.2 | 81.2 | -8 |
| Audubon Charter | A | A | 116.9 | 118.4 | -1.5 |
| Benjamin Franklin Elementary | B | B | 91.4 | 90.6 | 0.8 |
| Benjamin Franklin High | A | A | 138.9 | 140.1 | -1.2 |
| Cohen College Prep | B | C | 88 | 72.9 | 15.1 |
| Crescent Leadership Academy | F | T | 20.2 | 14.4 | 5.8 |
| Dr. Martin Luther King Charter | B | B | 91.6 | 85.5 | 6.1 |
| Edgar P. Harney | C | C | 76.2 | 75.9 | 0.3 |
| Edna Karr | A | B | 111.1 | 96.7 | 14.4 |
| Edward Hynes | A | A | 107.1 | 108.6 | -1.5 |
| Einstein Charter | C | B | 83.5 | 91.9 | -8.4 |
| Eisenhower Elementary | C | D | 71.3 | 67.7 | 3.6 |
| Eleanor McMain | B | B | 88.9 | 87.9 | 1 |
| ENCORE Academy | C | C | 70.9 | 73 | -2.1 |
| Esperanza Charter | C | B | 72.2 | 85.6 | -13.4 |
| Fannie C. Williams | C | D | 66.3 | 64.8 | 1.5 |
| G.W. Carver Collegiate | C | C | 73.6 | 70.6 | 3 |
| G.W. Carver Prep | D | C | 59.1 | 80.6 | -21.5 |
| Gentilly Terrace | D | D | 52 | 67.3 | -15.3 |
| Harriet Tubman | C | D | 81.4 | 63 | 18.4 |
| Homer A. Plessy | D | n/a | 49.1 | n/a | n/a |
| International High School | B | C | 85.6 | 83.6 | 2 |
| International School | A | A | 102.5 | 114.1 | -11.6 |
| James M. Singleton | D | C | 47.4 | 80.8 | -33.4 |
| John Dibert | D | C | 64.8 | 82.1 | -17.3 |
| Joseph A. Craig | D | T | 53.2 | 39.8 | 13.4 |
| Joseph S. Clark | D | F | 62.4 | 45.4 | 17 |
| KIPP Believe | C | C | 78.8 | 83.5 | -4.7 |
| KIPP Central City Academy | B | B | 85.4 | 95.2 | -9.8 |
| KIPP Central City Primary | C | C | 75.1 | 78 | -2.9 |
| KIPP McDonogh 15 | C | B | 79 | 85.7 | -6.7 |
| KIPP N.O. Leadership Academy | D | D | 64.5 | 49.9 | 14.6 |
| KIPP Renaissance | B | D | 96.8 | 61 | 35.8 |
| Lafayette Academy | B | C | 89.6 | 81.7 | 7.9 |
| Lagniappe Academy | D | C | 58.7 | 82.3 | -23.6 |
| Lake Area New Tech | C | D | 79.4 | 64.5 | 14.9 |
| Lake Forest Elementary | A | A | 123.8 | 124.6 | -0.8 |
| Landry-Walker High School | D | B | 61.5 | 89.7 | -28.2 |
| Langston Hughes | D | C | 59 | 77.6 | -18.6 |
| Lawrence D. Crocker | T | T | 69.2 | 66.1 | 3.1 |
| Lusher Charter | A | A | 130.3 | 131.5 | -1.2 |
| Lycée Français | B | B | 95 | 91.5 | 3.5 |
| Mahalia Jackson | C | B | 69.7 | 93.7 | -24 |
| Martin Behrman | C | B | 75.8 | 93.3 | -17.5 |
| Mary Bethune | B | B | 95 | 93.7 | 1.3 |
| Mary D. Coghill | C | C | 80.4 | 69.7 | 10.7 |
| McDonogh #28 | D | D | 49.2 | 66.4 | -17.2 |
| McDonogh #32 | D | D | 54.5 | 64.4 | -9.9 |
| McDonogh #35 Acad. | D | F | 56.3 | 36.7 | 19.6 |
| McDonogh #35 Prep | C | C | 70.3 | 79.4 | -9.1 |
| McDonogh #42 | D | T | 62.6 | 58.3 | 4.3 |
| Mildred Osborne | D | D | 50.8 | 52.9 | -2.1 |
| Milestone Academy | C | D | 69.3 | 67.3 | 2 |
| Miller-McCoy Academy | F | F | 40.4 | 49.7 | -9.3 |
| Morris Jeff | B | C | 84.6 | 83.5 | 1.1 |
| Nelson Elementary | F | D | 41.2 | 67.3 | -26.1 |
| NOCCA | A | A | 107.9 | 120.4 | -12.5 |
| NOMMA | A | C | 103.2 | 83 | 20.2 |
| Paul Habans | F | F | 39.8 | 42 | -2.2 |
| Pierre A. Capdau | C | B | 71.4 | 89.9 | -18.5 |
| ReNEW Accelerated City Park | F | F | 29.2 | 16.4 | 12.8 |
| ReNEW Accelerated West Bank | F | F | 18.9 | 21.9 | -3 |
| ReNEW Cultural Arts | C | D | 74 | 55 | 19 |
| ReNEW D.T. Aaron | C | D | 77.3 | 62.5 | 14.8 |
| ReNEW Schaumburg | T | T | 73.6 | 55.7 | 17.9 |
| ReNEW SciTech | B | C | 94.2 | 81.6 | 12.6 |
| Robert Russa Moton | B | B | 88.4 | 86.7 | 1.7 |
| Samuel J. Green | C | C | 73.6 | 74 | -0.4 |
| Sci Academy | B | C | 96.3 | 79.8 | 16.5 |
| Sci High | B | B | 98.6 | 94.3 | 4.3 |
| Sophie B. Wright | C | C | 81 | 73.9 | 7.1 |
| Success Prep | D | C | 56.9 | 74.7 | -17.8 |
| Sylvanie Williams | D | D | 52.4 | 52.8 | -0.4 |
| The NET Charter High | F | F | 25.7 | 22.2 | 3.5 |
| Warren Easton | A | B | 109.4 | 96.2 | 13.2 |
| William J. Fischer | F | D | 39.6 | 56.8 | -17.2 |
| SCHOOL | 2015 GRADE | 2014 GRADE | 2015 SPS | 2014 SPS | 14/15 SPS Chg. |