When the Board of Elementary and Secondary Education (BESE) made the difficult decision to close Baton Rouge Charter Academy in Mid-City (BRCA) last month, that was supposed to be the final word on the matter. But apparently Jon Hage, CEO of Charter Schools USA, the organization which runs BRCA, didn't get the memo.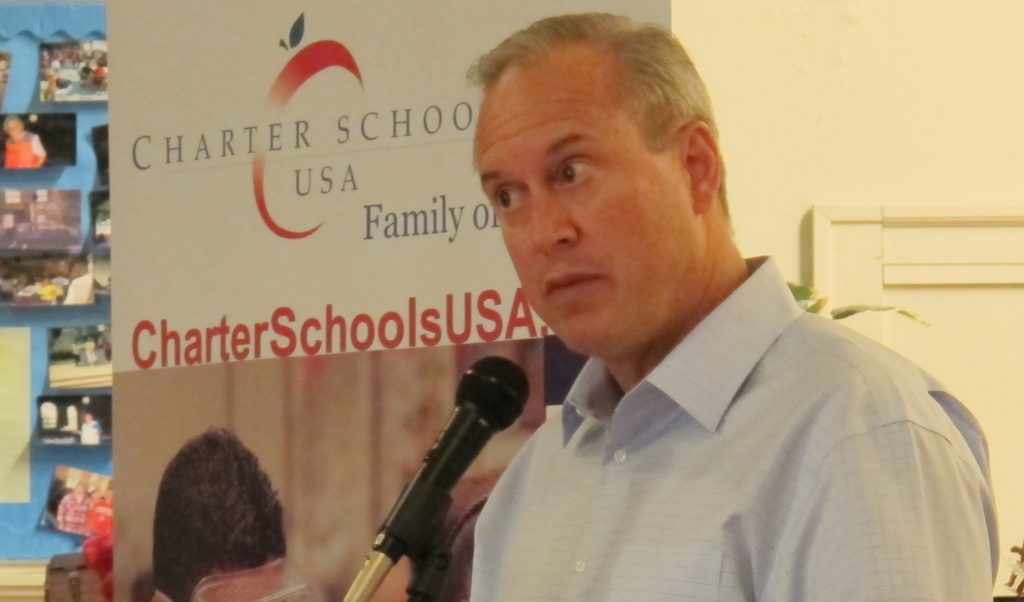 Charles Lussier over at The Advocate recently reported that Hage has been scrambling to find a way to keep BRCA open. Shortly after BESE voted to close the school, Hage flew to Louisiana to persuade East Baton Rouge Superintendent Warren Drake to grant BRCA a new charter after its current contract with the state ends in May.
In an interview with The Advocate, Warren said he was opposed to the idea, although Lussier noted that the East Baton Rouge School Board "could overrule him and grant the school a charter anyway." Moreover, Colleen Reynolds, a spokesperson for Charter Schools USA, made clear that the organization has not given up its fight to keep BRCA open, saying in a statement, "We will not give up on our students. We stand with them."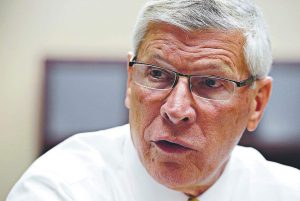 An Undeniable Failure
Unfortunately for Jon Hage and Charter Schools USA, all the platitudes in the world can't hide the fact that their efforts at Baton Rouge Charter Academy have been a failure. The school has received an "F" letter grade in each of the last three years and BRCA leaders were well aware that they would probably lose their charter as a result. State education officials establish clear performance expectations for charters and have shuttered several schools that have failed to raise student achievement.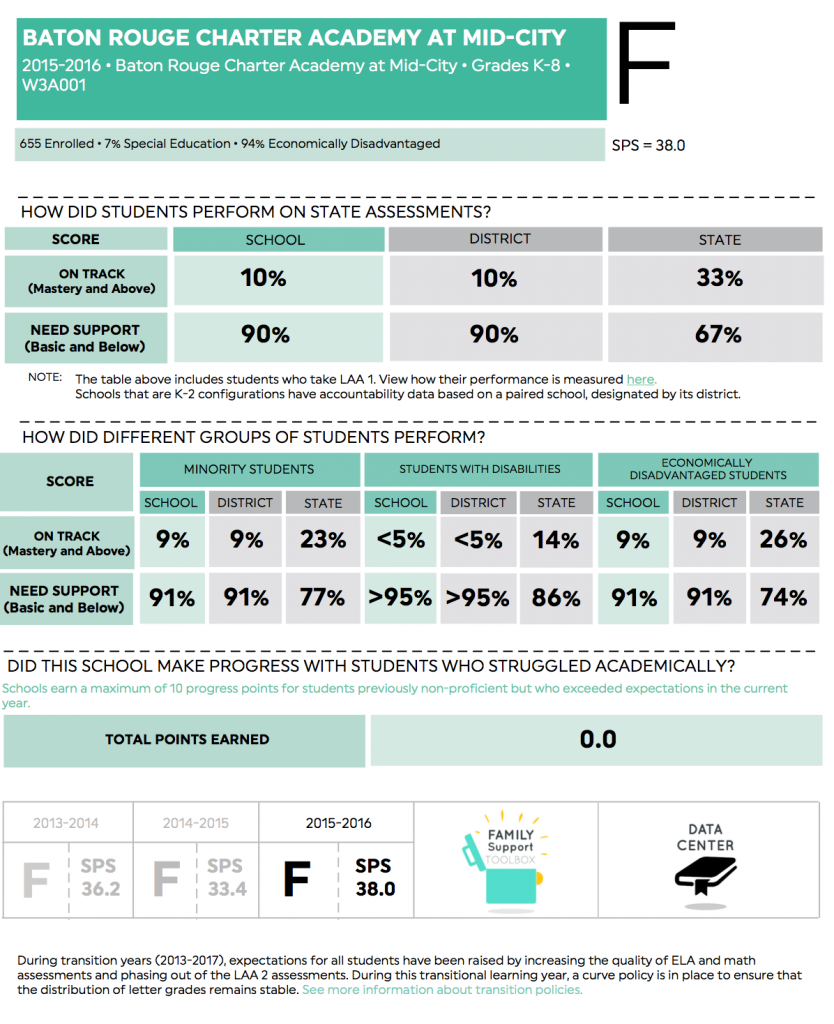 That's why Hage's attempt to evade accountability by switching authorizers is so troubling. This practice, which is known as "authorizer shopping," has been used by unsavory operators in states like Ohio and Michigan, which have become the poster children for charter school dysfunction.
But we don't play those games down here. Our state's commitment to high standards and rigorous oversight is the reason why Louisiana's charters have generally outperformed their traditional public school counterparts. It also explains why so many charter advocates, including groups like the Louisiana Association of Public Charter Schools and New Schools for New Orleans, urged BESE members to follow the recommendations of the state Department of Education to close failing charters like BRCA.
Plus, Hage's argument for seeking a new charter from East Baton Rouge is that BRCA needs more time to improve, but a look at the performance of Charter Schools USA's other schools across Louisiana doesn't instill confidence that more time will make a difference.
For example, BRCA's two closest sister schools, South Baton Rouge Charter Academy and Iberville Charter Academy, have grades of "D" and "F", respectively. In fact, out of the nine schools operated by Charter Schools USA in the state, only one – Acadiana Renaissance Charter Academy in Youngsville – has an "A" rating, although it also happens to serve a disproportionally white and affluent student population. Given the challenges they face, Jon Hage and Charter Schools USA would be better served by focusing their energies on improving their remaining schools lest they too end up on the chopping block.
In the meantime, officials in East Baton Rouge shouldn't give Hage's proposal the time of day. Instead of accepting responsibility for Baton Rouge Charter Academy's poor performance, he has made excuses and is trying to undermine BESE's authority. This unfortunate episode should also serve as a warning to other districts that Charter Schools USA doesn't want to play by the rules and therefore shouldn't be trusted.